Mount Kilimanjaro Climbing | Mount Kenya Climbing | Mt Meru Climbing | Mt Longonot | Oldonyo Lengai Hiking | Loita Hills Walking | Trekking Chyulu Hills

KENYA SAFARIS - Mount Kenya Climbing Safaris

5-Days Sirimon - Chogoria Route

The combination of Sirimon route starting from the west of Mount Kenya National Park passing through the driest side of the mountain. On this ascent, trekkers encounter with giant trees, rocky terrain and the charming Mackinders Valley before descending via the Chogoria route. On descending Chogoria spotting the characteristic lush bamboo zone and the highland forests while gazing at the magnificent Gorges Valley, waterfalls and tarns.

Climbing Mt Kenya Summary

The 5-days Sirimon - Chogoria Route is much more scenic than Naro Moru route. It is on the dry side of mountain (Mount Kenya National Park) which offers some of the finest walking experiences. Climb up through forest into a wide ridge approach to the summit area. This 5-days Climbing Mt Kenya route starts on the northwest side of the mountain near Nanyuki at Sirimon Park Gate. Access is adequate and the bunk house facilities are the best on this side of the mountain.

The last night is at the comfortable

Mt Kenya Bandas equipped with well deserved hot and cold showers

MKC 502: 5 Days Sirimon - Chogoria route trekking

Overview of the 5-day hike in East Africa:
Day-1: Nairobi to Old Moses camp (3300m)
Day-2: Shiptons Camp 4200m
Day-3: Shiptons Hut 4200m
Day-4: Meru Mount Kenya Bandas 2950m (Mt Kenya Bandas)
Day-5: Chogoria to Nairobi


Hiking summary & schedule:

Distance: 80 km | Difficulty: Moderate | Start/Finish: Nairobi

5 days Sirimon - Chogoria route itinerary and price:

Day 1:

Nairobi/Sirimon/Judmaier Camp (Old Moses Camp),

3-4 hrs, 9km, 860m ascent

Leave Nairobi at 7.30am to Nanyuki town for lunch, taking about 4 hours. Proceed to Sirimon Gate (Sirimon Park Gate), 1 hr, 2440m. From the gate follow the track as it winds uphill though the forest which becomes heath land after about 3 hrs. About 3½ hours from the gate the track veers right to Judmier Camp, 3300m for dinner and overnight, L, D

Day

2:

Judmier Camp/Shipton Camp, 6-7hrs, 17km, 900m ascent

After breakfast, follow the track uphill, forking left at the junction. Following one hour trekking from Old Moses Camp, the track crosses Ontulili River. Go right contouring through the Moorland and crossing Liki North. Continue uphill to Mackinders Valley from where there are panoramic views up the valley towards the main peaks (Nelion, Batian and Lenana). Dinner and overnight at Shipton Camp, 4200m, B,L,D

Day 3:

Shipton Camp - acclimatization day

Spend the day acclimatizing with guided hikes. You will spend the day trekking to Kami Hut and down to Hauseberg Lakes (Hauseberg Tarn and Nanyuki Tarn). Walk back to Shipton for an early dinner and overnight in readiness for the next day's summit attempt, B,L,D.

Day 4:

Shiptons/Point Lenana/Mount Meru Bandas (Chogoria Gate),

11-12hrs, 32km, 785m ascent

You are awake early in the morning for some. We now leave the camp at 3am up a steep stony quarry that cuts through a cliff clearing visible part towards lower Hall Tarns. The journey lasts about 3 hours arriving Mount Kenya Point Lenana (6km from Shipton Camp) at 6:30am. Trekking to Lenana Peak at 4985m taking about 3hrs or so. Enjoy photographic session and sightseeing from the summit. After the African sunrise, descend down to Mintos hut (6km), 2hrs, for breakfast. Proceed with the adventure hiking for 20km, 4-5hrs further down to Mount Meru Bandas, 2950m (Mt Kenya Bandas). Dinner and overnight at Mount Kenya Bandas, B,L,D

Day 5: Chogoria Bandas/Chogoria/Nairobi

, 2hrs, 15km

After enjoying your last breakfast, you will walk down by trekking for 2hrs, 15km to forest clearance. The remaining part distance of approximately 16km is by 4x4WD vehicle. Catch a 4x4 transfer vehicle to Chogoria Village where you will connect with your transfer vehicle back to Nairobi, B,L.

Tour cost: US$ 895 per person

Included in the price:
• Guarantee price/guarantee trek on confirmation
• Transfer to and from the base of the mountain
• Full board accommodation whilst on the trek.

• Meal plan as detailed: B=Breakfast, L=Lunch and D=Dinner
• Accommodations in camps/huts as per the itinerary
• All park entrance fees to include government taxes
• Service of an English speaking professional guide, porters and skilled cook
• Start and finish Nairobi
• Treated water on the trek.
• On completion, successful climb certificate


Excluded:
• Laundry, tips, sleeping bags, drinks, accommodation before the trek and climbing gears
• International flights
• Visas to Kenya
• Items of personal nature
• Any other extras not detailed in the above itinerary




Mount Kenya Climbing Routes

So, how high is Mount Kenya? It is 5895m or just 19,341 feet above sea level and located in Kenya, East Africa.

The shortest number of days required for this hike is 4, but the best should be five days to allow proper acclimatization before attempting the summit trek. Also, you might want to allow for time added on arrival and departure days. As it is a steeper trekking approach, Sirimon-Chogoria hiking is best done in 5 days to increase your probability of success.

There are three main summit routes, namely Chogoria, Sirimon, and Naro Moru. Of the three main routes for trekking Mount Kenya, the most scenic and exciting is the Chogoria route. The route starts at Meru Mount Kenya Bandas just after the Chogoria Gate at the base of perhaps one of the beautiful Lake Michaelson. As it is a slower ascent, it offers more prospects for acclimatization and time to enjoy the magnificent scenery. Another hiking trail is Sirimon, ascending on the driest side of the mountain, meaning less chance of rain and having the most gradual ascent. It starts from Sirimon Gate through a yellow wood forest, into shrubland, a forest of scenecios up to Lenana Peak.


When is the best time to trek along Sirimon-Chogoria?Mount Kenya is fairly equatorial, which means there is marginal variation between seasons. However, there are two main rainy seasons. The first being shorter rains from March to May (short rains) and the long rains in November to December, making the forest trail muddy and, of course, rain higher up and snow. Thus, the best months to climb Mt Kenya are January to February and also June to October.

| | | |
| --- | --- | --- |
| | | |
| Mount Kenya Climbing | | Mount Kenya Hiking |




Sirimon - Chogoria route trekking, Climbing Mt Kenya, Mount Kenya Climbing Expeditions, Mt Kenya climbing tours and trekking
Mount Kenya is Africa's second highest mountain at 5,199m (17,058 feet) and the highest of all Kenya Mountains. Mount Kenya is roughly circular, about 60km across at the 200mm contour, where the steep font hills rise out of the gentler slopes of the centered highlands. At the centre of the massif, the main peaks rise sharply from around 4,500m to the main summit of Batian 5,199m, Nelion 5,188m and point Lenana 4,985m. Other major summits on the mountain include Point Piggott 4,957m, Point Dutton 4,885 and Point John 4,883m. Of the three main peaks (Batian, Lenana and Nelion), only point Lenana can be reached by trekkers and the other two being only for technical climbers.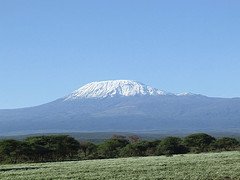 Africa's highest mountain, Mount Kilimanjaro stands on featureless part of the East African plateau, on the Tanzanian side of the Kenya border near Moshi, side by side with the smaller Mount Meru. These mountains are extinct volcanoes, with Kilimanjaro actually being the agglomeration of three distinct volcanoes, Kibo (5896m/ 19,340 ft), Mwenzi (5,149 / 16,896 ft) and Shira (3,962m / 13,000 ft). whose violent creation is geologically associated with the creation of the Great Rift Valley, 100km to the West.
Mount Meru is Mount Kilimanjaro's little sister, standing at 4,566m compared to 5,895m, but is still an impressive freestanding volcano, which makes a superb four day climb to the top. It last erupted in 1910 therefore can be classified as an active volcano. The first Mount Meru ascent was made by Dr. Fritz Jaeger, 1904. The town of Arusha lies at the base of Mount Meru Trekking, loads of trek companies do this trek. Wild animals are frequently found on this mountain therefore an armed ranger usually accompanies the trekkers.