Mount Kilimanjaro Climbing | Mount Kenya Climbing | Mt Meru Climbing | Mt Longonot | Oldonyo Lengai Hiking | Loita Hills Walking | Trekking Chyulu Hills

NAIROBI CITY EXCURSIONS

NAIROBI EXCURSIONS and Nairobi city tour:

Short safaris from Nairobi:

Departure: Minimum 2 people

MKC001:Nairobi City Tour - 3 hours

The tour covers the modern city centre with its natural silhouette, the colourful city market, Parliament buildings, Kenyatta International Conference Centre, the landmark of Nairobi (KICC), the Railway Museum and the renowned National Museum where there are spell-binding displays of the early man, tribal regalia and flora and fauna of Kenya. A visit to the adjacent snake park is also included. The tour returns to your city hotel in time for lunch (lunch excluded). You can comfortable join this day tour with one of our lodge safaris Kenya and get to experience wildlife safari.
Price: US$ 50 per person

MKC002: Nairobi National Park Tour - 4 hours

This short Nairobi National Park day trip tour departs daily at 06:30hrs for a morning schedule and the afternoon one at 13:00 hrs. This unique wildlife sanctuary is just a few kilometres from Nairobi's bustling city centre, with Nairobi boasting of having the only wildlife sanctuary to be found in the city precincts in the world. Despite its proximity over 50 species of mammals can be found there, including four of the Big Five with elephant species not being represented. The tour also includes a visit to the animal orphanage at the park gate. The tour returns to the city centre by sundown. Private tour of the same can be organized nat any other timing subject to a minimum of 2 people sharing. This trip can be combined with

Mt Kenya hiking

.

Price: US$ 135 per person

MKC003: Karen Blixen and Giraffe Centre - 4 hours
Drive towards the Ngong Hills and pass the Ngong village to the Karen Blixen Museum, for many years was her home. Later proceed to the Giraffe Centre to see and hand feed the famous endangered species of Rothschild Giraffe and her family.
Price: US$ 60 per person

MKC004:Carnivore Experience

Guaranteed daily departures at 12.30 p.m. and 7.00p.m. Nairobi has many restaurants offering varieties of cuisine. We recommend dinner or lunch at the Carnivore, which is famous for the succulent stew and barbecue dishes of game meat as an excellent compliment to a holiday in Kenya; especially as an excellent welcome, or farewell dinner in Kenya. An excellent part of Nairobi city tour or things to do in Nairobi.


Price: US$ 50 per person

MKC005: Bomas of Kenya- 3 hours
Bomas is a homestead and just 10 kilometres from the city centre with numerous homesteads reflecting Kenya's cocktail of cultures depicting in a traditional village life style. You will be treated to a rich traditional music and dance show at this cultural centre. The greatest excitement is the display of traditional dances, music, and songs being performed in a splendid area. Traditional dishes may be served as extras.
Price: US$ 65 per person

MKC006: Rift valley/Lake Nakuru - Full Day
Lake Nakuru lies in the volcano strewn Great Rift Valley. Enjoy the view of the Great Rift Valley from the escarpments and then descend to the Lake Nakuru National Park. A game drive to view spectacular thousands of flamingos and other bird species in addition to viewing the white and black Rhino, Leopard, Buffalo and Waterbuck among others. Lunch is served at either Sarova Lion Hill Lodge or Lake Nakuru Lodge. A stop over will be made at Lake Naivasha, time permitting.

Price: US$ 250 per person

MKC007: Full day Nairobi National Park & Bomas

This package involves visit to the wildlife sanctuary located just a few kilometres from the city centre and a combination of Bomas for cultural displays, dances, and songs. Lunch will be served at Nairobi Mamba Village, giving you a chance to watch crocodiles feeding, ostrich farm, camel and horse riding. The tour returns to the city centre in the evening.

Price: US$

210

per person

MKC008: Half day Thika special

Drive to Thika located some 45 km from the city centre to arrive at Blue Posts Hotel, established in 1908 as a stop over for white settlers who farmed and lived in central Kenya. Two rivers namely, Thika and Chania Rivers surround the hotel each with a natural waterfall. These rivers originate from the Aberdare Ranges, in the Aberdare National Park. A visit to the nearby pineapple plantation will be done. Lunch at the hotel, after which, you will be driven back to Nairobi where the tour ends.

Price: US$ 135 per person

MKC009:

Full day Fourteen Falls/Kilimambogo special

Fourteen falls is located about 65 km away from Nairobi off Thika - Garissa Road turning at Makutano junction. The falls derive the name from their fourteen successive falls of water along the famous Athi River, border between Thika and Machakos districts. There is a lot to see and do while in this scenic site – boating, fishing, photography, plant identification, bird watching among other activities. Nearby the falls lies Kilimambogo, a Kiswahili word for the Mountain of the Buffalo and home to the late Great Philanthropist Sir Macmillan. Half way the hill lie his grave, that of his wife and their house helper. It is on the foot of this hill that Macmillan entertained Roosevelt and Churchill when they paid him a courtesy call. In the hill you will spot birds, buffalo, baboons, and other animals. Picnic lunch will be served at the hill summit. Return to Nairobi where the tour ends.

Price: US$ 225 per person

MKC0010: Half day Paradise Lost

Drive to the largest picnic site in Kenya (54 acres of pure fun). This is the home of the 2.5 years old stone age caves, trees thought to be hundred of years old while the river reeds have a long story to tell. Enjoy the nature trails amid bird watching, horse riding, camel riding, feeding Maasai ostrich, fishing, coffee farms, and boat riding. The tour returns to the city centre.

MKC0011:

Cultural tour of Utamanduni

Utamanduni is a Kiswahili word for 'traditional' and forms a full day of pure Kenyan traditional cultural experience with visits to utamanduni cultural centre displaying a variety of cultural activities. Traditional dishes will be served to enable clients have a total true taste of traditional Kenya.

Price: US$ 120 per person

MKC0012: Ngong Forest Sanctuary walk

Drive 6 km from the city centre to Ngong Forest, the only indigenous forest in the world that is located right within the city confines of a capital city. The forest is a 600 hectares of urban forest managed by a private charitable trust – The Ngong Forest Sanctuary Trust. The walk in the forest offers bird watching, plant identification, and animal life accompanied by a professional naturalist. At the end of the walk Ngong Race course Restaurant will serve refreshments. Please note your payments go to the Ngong Forest Sanctuary Trust, contributing to conservation of this highly valued natural resource splendours.

MKC0013: Ngong Hills

This excursion can be arranged as either full day or half day. The package offers you a wonderful hill top view of Lake Magadi plains of the Nguruman and Uaso Nyiro rivers, and lake Natron

Price: Full day: US$ 120 per person

Half day: US$ 80 per person

MKC0014: Full day Mt. Longonot - Things to do in Nairobi

Hiking to the highest of the good valley can offer you the prospect to expertise the liberty and impressive wild of East Africa, and still be place time for dinner. Mt Longonot is simply but 2780m (9100ft) on top of water level with a tree-filled interior and a lonesome steam vent to the northeast. A climb up Mount Longonot is a perfect tour from either Nairobi or Naivasha.

The trip departs Nairobi at 8am and also the journey takes or so one and a half hours. Your begin the ascent at 2150m and, like all smart uphill hikes, it'll lull you into a false sense of security with a slow mild rise to the primary hill. this offers you an opportunity to urge your lungs and limbs freed up for the second section that, in our opinion, is most impressive. At the top of every section there's a rest purpose wherever you'll be able to prepare yourself for consequent a part of your journey.

Despite setting off early to avoid the warmth of the sun, by the time you reach the top

of the second section you may have sure enough generated your own heat.This hike isn't a straightforward hike however is possible by individuals of fairly smart fitness. Once you've got finished the second section, you're on the rim of the crater. there's another respite of slightly less hard piece of ground, before creating the ultimate move the fourth section. This again could be a hard section, although not as hard because the second. As you heave yourself over the rim of the crater you're rewarded with the impressive sight of Naivasha and also the nice valley and a sense that it had been all worthy.

NB: Before creating this climb you may have to be compelled to adapt at 6000 feet. An armed ranger shall accompany you on the hike as your guide. As there square measure wild animals within the space, he's armed. the total trek is barely concerning 8–9 kilometer long however terribly steep, most so the trip from park gate to the Longonot Peak and back once more takes around five hours of hiking.


Price: US$ 225 per person

MKC0015:

Full Day Amboseli National Park

Depart Nairobi and drive south through Maasai territory via Namanga on Kenya-Tanzania border and on to Amboseli, at the foot of Mt. Kilimanjaro, Africa's highest snow capped mountain in the tropics. Excellent game viewing will be witnessed with high concentration of elephants with bulls having the largest tusks in Kenya. You will have the chance to see lion, rhino, giraffe, zebra, impala, wildebeest, buffalo amidst other animals and plentiful of birds life. Lunch will be served. Afternoon game viewing followed by departure for a journey back to Nairobi arriving in the evening.

Price: US$ 285 per person




| | | |
| --- | --- | --- |
| | | |
| Mount Meru Climbing | | Mount Meru Hiking |

Nairobi Excursions, city tours, day trips, Nairobi National Park safari, Nairobi National Park tour, short safari in Nairobi, Carnivore experience, Karen blixen, Bomas of Kenya
Mount Kenya is Africa's second highest mountain at 5,199m (17,058 feet) and the highest of all Kenya Mountains. Mount Kenya is roughly circular, about 60km across at the 200mm contour, where the steep font hills rise out of the gentler slopes of the centered highlands. At the centre of the massif, the main peaks rise sharply from around 4,500m to the main summit of Batian 5,199m, Nelion 5,188m and point Lenana 4,985m. Other major summits on the mountain include Point Piggott 4,957m, Point Dutton 4,885 and Point John 4,883m. Of the three main peaks (Batian, Lenana and Nelion), only point Lenana can be reached by trekkers and the other two being only for technical climbers. Check available hiking Mt Kenya options.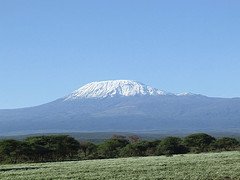 Africa's highest mountain, Mount Kilimanjaro stands on featureless part of the East African plateau, on the Tanzanian side of the Kenya border near Moshi, side by side with the smaller Mount Meru. These mountains are extinct volcanoes, with Kilimanjaro actually being the agglomeration of three distinct volcanoes, Kibo (5896m/ 19,340 ft), Mwenzi (5,149 / 16,896 ft) and Shira (3,962m / 13,000 ft). whose violent creation is geologically associated with the creation of the Great Rift Valley, 100km to the West.
Mount Meru is Mount Kilimanjaro's little sister, standing at 4,566m compared to 5,895m, but is still an impressive freestanding volcano, which makes a superb four day climb to the top. It last erupted in 1910 therefore can be classified as an active volcano. The first Mount Meru ascent was made by Dr. Fritz Jaeger, 1904. The town of Arusha lies at the base of Mount Meru Trekking, loads of trek companies do this trek. Wild animals are frequently found on this mountain therefore an armed ranger usually accompanies the trekkers.