Mount Kilimanjaro Climbing | Mount Kenya Climbing | Mt Meru Climbing | Mt Longonot | Oldonyo Lengai Hiking | Loita Hills Walking | Trekking Chyulu Hills

Luxury Lodge Safaris Kenya, Tours & Travel Holidays Kenya

KENYA LODGE SAFARIS | Kenya Safari Tours

Tanzania/Kenya combined Safaris




Why safari in Kenya?

Travel to Kenya is much more than safari or Africa holidays.
Traveling to Kenya means traveling to a country that offers incredible diversity in landscapes, culture, wildlife and activities, which leads to an almost infinite number of opportunities for experiences. The fact that the country also has a very good infrastructure means that on its Kenya trip, it can be relatively effortless to get around to the many different areas of the country.

Traditional wildlife safari is too many, the primary that travel to Kenya contains. But traveling to Kenya is much more than that. Here visitors also get tropical rain-forest, beautiful beaches, deserts, high mountains, fascinating culture and several UNESCO protected historic sites.

The word safari comes from the Arabic word 'Safar', which means 'a journey' - in a broad sense. Traveling to Kenya is 'safari' in more than one sense with the many varied experiences offered.
Kenya's UNESCO Cultural Heritage

Travel to Kenya gives visitors the opportunity to experience 6 unique sites, protected by UNESCO's world heritage. Places witnessing Kenya's cultural, historical, natural and archaeological value.

The 6 UNESCO protected sites are:

*Lamus Old Town. Recorded in 2001.
*Fort Jesus in Mombasa. Recorded in 2001.
*Lake Kenya Lake Bogoria, Lake Nakuru and Lake Elementaita
*Lake Turkana National Parks. Recorded in 1997.
*Mt. Kenya National Park. Recorded in 1997.
*Mijikenda Kaya Forest

Many travel to Kenya for safari
There is no doubt that the vast majority of guests travel to Kenya comes to see and experience the wildlife. Kenya is undoubtedly one of the world's very best safaris, because it is here that you can truly experience the huge animal flocks that are often displayed on, for example. TV. But not only the quantities, but also the diversity of animal and bird-life, diffuse Kenya as a safari island from other safari countries. Kenya is without a doubt the motherland of the safari.

Kenya offers a large number of safari and national parks, each with their characteristics, both animal and natural. Here we should mention the most important:

*Masai Mara National Park
*Samburu / Buffalo Springs National Park
*Amboseli National Park
*Tsavo East and West National Park
*Lake Nakuru National Park

Wild safaris in Kenya | Kenya safari tours
The border area between Kenya and Tanzania is the place for a unique animal experience every year: the great wildlife. An annual cycling trip, where millions of goats and zebras, followed by predators, go between

Masai Mara

and Serengeti in Tanzania in search of nutritious food. Two large single events stand out when the June / July animals pass the Mara River and when in February they are in the Ndutu area of Tanzania to calf. Gnu-calving in February.



Africa Holidays

More trips to Kenya to be active
Water Sports
There are plenty of opportunities to be active on other fronts than animal adventures. Kenya has a unique nature with rippling rivers, beautiful lakes and, not least, access to the vast Indian Ocean. Ideal setting for both motorized and non-motorized water sports. Here we talk about White Water Rafting, Kite Surfing, Big Game Fishing and Scuba Diving.

Golf
Should one be barely so wild and violent, one can travel to Kenya also offer really good golfing opportunities. The weather in Kenya is in many ways ideal for golf, all year round, so it's not so bad that the country has several top golf courses.

Hiking / Hiking
Are you looking for a really active challenge, then the opportunities are also present. Here are varied challenges ranging from hiking to the top of

Mt. Kenya

, paragliding through the Kerio valley and wild biking at

Mt. Longonot

for mountaineering at Hell's Gate. Central Kenya and The Great Rift Valley are unique areas for hike and trek.

For the special occasion
Many travel to Kenya also for the very special occasion, for example. honeymoons, wellness trips, etc. for here are lots of amazing resorts that will be sublime for the purpose mentioned.


If you are interested in photography, Kenya is absolutely ideal with opportunities for amazing animal and nature.


Many travel to Kenya for the culture
The African culture is unique and unique, and many travel to Kenya also to experience this distinctive aspect. Kenya is home to 42 different, unique cultures; cultures that help shape Kenya's unique identity. You can experience the culture in different ways by either choosing to live in a local village, thus getting close to the locals or practicing the urban culture in one of the country's major cities like Nairobi or Mombasa.

A stay in a village will be an experience for life. The perfect way to be introduced to local culture and lifestyle. A village stay is a reflection in the purest form of traditional culture.

Many who travel to Kenya combine with a beach holiday at the coast

The healthy winds from the Indian Ocean as well as the clear waters attract many who travel to Kenya. The perfect place to relax and, in most cases, digest the sensational safari experiences or other activities. By the Kenya coast you will find long, beautiful sandy beaches and lots of fine resorts in different price categories. So everyone can join.

The Kenya coast is traditionally divided into 4 main beach areas:

*Diani Beach including Chale Island
*The northern coast
*Malindi & Watamu
*Lamu

People who travel to Kenya can thus have a wide range of experiences, although animal experiences are often the focus.

Best time for Kenya travel
You can travel to Kenya all year long, but certain periods are obviously better than others. Kenya typically has two rainy hours; a long from March to May and a short from October to November. The hot time in Kenya is in the summer months, where the temperature easily reaches around 30 degrees or more. It is also the best time for scuba diving, snorkeling and bathing in general, because the ocean is typically quieter and clearer.

In the summer months there is winter in Kenya and the temperature is at the pleasant end of about 20 degrees. It is here during this period that you can experience the wildlife crossing the Mara River. In

Nairobi

there may be cool in the evening during this period, why a lukewarm sweater can do wonders. The same can be true of safari travel.

No one can wonder about the weather. The weather in these years is very variable all over the globe, also in Kenya. So the above is only guiding, based on historical observations.

Kenya is thus much more than safari.

We at Mount Kenya Climbing Expeditions are always ready to help you tailor your dream vacation to Kenya. Contact one of our travel experts and start planning your safari in Kenya to enjoy your perfect luxury safari holiday or just Kenya luxury lodge safaris.

Kenya luxury lodge Safaris, Kenya wildlife Lodge holidays - Aberdare lodge safari, Shaba lodge tour, Samburu lodge safaris, Mount Kenya wildlife lodge holidays, Masai Mara Safari, Lodge luxury travel in Kenya, Masai Mara safari tour.

Kenya Luxury Safaris, Tours & Travel Holidays, Masai Mara safari tour, Mount Kenya, Amboseli safaris, Samburu lodge safari tour, Shaba lodge travel, Lake Nakuru lodge holiday, kenya lodge safaris, Aberdare lodge safaris, Tsavo safaris, Sweetwaters lodge trips, Kenya safari lodge packages, Kenya wildlife Lodge holidays, Aberdare lodge safari, Shaba lodge tour, Samburu lodge safaris, Mount Kenya wildlife lodge holidays, Masai Mara Safari, Lodge luxury travel in Kenya.
Mount Kenya is Africa's second highest mountain at 5,199m (17,058 feet) and the highest of all Kenya Mountains. Mount Kenya is roughly circular, about 60km across at the 200mm contour, where the steep font hills rise out of the gentler slopes of the centered highlands. At the centre of the massif, the main peaks rise sharply from around 4,500m to the main summit of Batian 5,199m, Nelion 5,188m and point Lenana 4,985m. Other major summits on the mountain include Point Piggott 4,957m, Point Dutton 4,885 and Point John 4,883m. Of the three main peaks (Batian, Lenana and Nelion), only point Lenana can be reached by trekkers and the other two being only for technical climbers.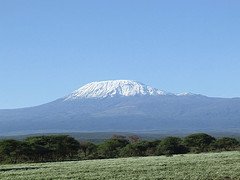 >
Africa's highest mountain, Mount Kilimanjaro stands on featureless part of the East African plateau, on the Tanzanian side of the Kenya border near Moshi, side by side with the smaller Mount Meru. These mountains are extinct volcanoes, with Kilimanjaro actually being the agglomeration of three distinct volcanoes, Kibo (5896m/ 19,340 ft), Mwenzi (5,149 / 16,896 ft) and Shira (3,962m / 13,000 ft). whose violent creation is geologically associated with the creation of the Great Rift Valley, 100km to the West.
Mount Meru is Mount Kilimanjaro's little sister, standing at 4,566m compared to 5,895m, but is still an impressive freestanding volcano, which makes a superb four day climb to the top. It last erupted in 1910 therefore can be classified as an active volcano. The first Mount Meru ascent was made by Dr. Fritz Jaeger, 1904. The town of Arusha lies at the base of Mount Meru Trekking, loads of trek companies do this trek. Wild animals are frequently found on this mountain therefore an armed ranger usually accompanies the trekkers.