Mount Kilimanjaro Climbing | Mount Kenya Climbing | Mt Meru Climbing | Mt Longonot | Oldonyo Lengai Hiking | Loita Hills Walking | Trekking Chyulu Hills

Kenya Lodge Safaris - Maasai Mara Migration Safaris, wildebeest migration tour in Kenya trip holiday

KENYA LODGE SAFARIS

–

Maasai Mara Migration Safaris, Wildebeest Migration tour

Kenya holiday with luxury Masai Mara safari. A 4 day safari in Kenya with a 3 night luxury lodge safari to Masai Mara. The 4 days Kenya safari trip to the stunning Masai Mara Game Reserve, the Kenyan part of the huge Serengeti ecosystem and in the rainy season, is probably the largest concentration of wildlife. On the mighty plains we meet large flocks of elephants, goats, zebras, hippos, giraffes, gazelles and other herbivorous prey for the chasing lions, hyenas, leopards and cheetahs. The next few days we come close to a host of animals we experience from your private safari minibus or land cruiser. From July to October you can experience the 1,200 km long hike after water and fresh grass of over one million goats along with a few hundred thousand zebras plus a lot of Thompson gazelles. It is during this hike that some become victims of the huge crocodiles when they have to cross the Mara River. After a good safari, it's a great moment to experience the mighty starry sky and hear the sounds of the night on the savannah. Check out this wonderful Masai Mara wildebeest Migration safaris that will offer a lifetime experience.

4 Days Masai Mara Wildebeest Migration Safaris Tour

Day 1: Lake Nakuru - Maasai Mara Kenya safaris tour

On this Kenya migration safaris tour depart Nairobi at 7.30am with a drive through the Great Rift Valley past the spectacular Volcano Mount Longonot and head towards the rolling plains of the Masai Mara. The last one and a half-hours of the journey find us on bumpy, dusty, dirt road as we drive across the Loita Plains taking in the scenery. Before entering into the Game Reserve there is a visit to a Masai village. Not only can you see inside a traditional Masai hut, and learn about Masai tradition and lifestyle, but you can also try your hand at the age-old tradition of bartering for souvenirs. The village is slightly commercialised but still gives a good idea of how the Masai live. Dinner and overnight at Mara Sopa Lodge B,L,D.

Day 2 & 3: Masai Mara Kenya lodge safari
Two full days in the reserve to explore Masai Mara and probably trailing migrating wildebeests. The Masai Mara is the most famous and prolific game park in Kenya covering an area of 1672 square kilometres. It is classified as a Reserve as opposed to a National Park to allow the Masai people to use the area to graze their cattle. A highlight of the Mara is no doubt the annual wildebeest migration, when literally millions of these beasts stray north from the Serengeti in search of grass for food, before turning south again.

The Masai Mara has one of the highest concentrations of lion in Africa and is a good place to try and spot the elusive leopard. In most National Parks it is forbidden to drive at night so all game viewing is done as early and as late as possible to get the best conditions. The best time of the day to spot the hunting cats is just before sunrise and just after sunset so we are up and away early. During the heat of the day we return to the lodge for huge buffet breakfasts and a chance to enjoy your superb hotel facilities, including a chance to relax by the pool.



Game Parks are places where the enthusiastic use a lot of film so it's advisable to have some extra. Hopefully we should be able to spot prides of lions, elephants, buffaloes, zebra and hippo and other more common animals such as wart hog, giraffe, and baboon - almost every conceivable species of East African wildlife can be spotted here.

At our lodge in the reserve there are many optional activities to enjoy. In the evening there is the opportunity to learn more about the Masai and their way of life with a talk about their rich culture and an option to join them in traditional dancing. Early the next morning hot air ballooning is on offer. It is an amazing experience, as you take off with the sunrise and float above the Game Reserve, viewing the wildlife for approximately an hour before landing in the reserve to enjoy a full breakfast with champagne under the shade of a tree on the plains. The wildlife looks on while you partake in this luxurious fare. We offer two opportunities for a balloon safari on this tour, your tour leader will advise you whether the Masai Mara or Serengeti ballooning option is the best choice depending on the location of the migration. Dinner and overnight at Mara Sopa Lodge, B,L,D.

-Hot air balloon ride: US$ 480 per person

-Visit to a Maasai village for a cultural tour: US$ 25 per person

Day 4: Masai Mara - Nairobi

Today, drive back to Nairobi after breakfast, end of the tour in the early afternoon

, B.

Tour Cost: US$ 1,195 per person sharing. Single room supplement: US$ 235

Kenya migration safaris tour includes:
-Guarantee price/guarantee safari on confirmation
-All ground transport whilst on safari in a comfortable safari vehicle equipped for game viewing, photography and touring
-Full board accommodation whilst on safari

-M

eal plan as described, B=Breakfast, L=Lunch and D=Dinner
-Accommodation in double/twin/triple room
-All park entrance fees to include government taxes
-Service of an English speaking professional driver/guide
-All game drives as detailed in the itinerary
-Bottled water whilst on safari
-Start and end in Nairobi.
-Personalised service

Tour Cost excludes:
-Tips
-Laundry
-Beverages/Drinks
-International flights
-Visas
-Items of a personal nature
-Any other extras not detailed in the above itinerary




Pre & Post Tour Accommodation Kenya safaris tour :

All our tours begin with a pre-departure meeting when you meet your tour leader, driver and/or fellow travelers. If you wish to spend a few additional days in your start city before the departure of your tour, then we can arrange accommodation for you. On the last day of the tour we usually arrive at our final destination in the late afternoon, when the tour ends. If you would like to book accommodation for that night or even stay additional nights, we will be more than happy to arrange this for you as well. All our accommodation is carefully chosen, conveniently located, clean and comfortable. (All rates per person per night and subject to availability). Check more about our Kenya migration safaris tour and explore Kenya luxury safaris.

Wildebeest Migration Safaris - The migratory path of the wildebeest

December, January, February & March:
The Serengeti National Park and Ngorongoro Crater are arguably the most impressive wildlife sanctuaries in the world. During the months of December through to March, the seemingly endless plains of the Southern Serengeti and the Crater are inhabited by massive herds of wildebeest and zebra. The enormous herds graze on the lush grass. In the calving season (late January through to mid March) the herds are concentrated here, attracting the attention of predators like lion, cheetah and hyena.

April & May:
During the months of April and May the over-grazed plains are unable to sustain such massive herds. The migration sweeps northwest, moving from the short grass plains of the southern Serengeti and the Crater to the long grass plains and woodland of the Serengeti's western corridor, towards Lake Victoria. This period is during the long rains and is considered unsuitable for game viewing as roads are often closed or impassable.

June:
By now the wildebeest herds have depleted the western corridor's pasturelands and the herds must continue north to graze further. May through June is the period where breeding occurs and is a transitional period between the wet and the dry season.

July, August, September & October:
In early July the numerous herds have gathered at the banks of the Mara River, the final hurdle to the lush grasses of the Masai Mara. Desperate to feed, the wildebeest and zebra must negotiate crocodile infested waters. Due to their large numbers the majority of animals pass safely, however predators take advantage of stragglers whilst others drown in strong currents. During this period the wildebeest remain in the Mara.

November:
The arrival of short rains draws the migration south. Towards the end of November the herds make their way back into the southern Serengeti and the cycle continues.

Please note: The wildebeest migration is a naturally occurring event and timings may vary depending on the seasonal rains and the above is just a typical pattern.


About Masai Mara

The massive and rolling plains of Africa are intensely found out on a Kenya safari tour. A continent full of exceptional diversity and vast beauty, Africa's charming but intolerant landscape have to be seen up close so one can clearly admire its splendor. From Masai Mara National Reserve in Kenya to the Serengeti National Park of Tanzania, exploring those and different flora and fauna parks is an adventure like no different.

With its spectacular vistas and a diversity of untamed animals, safaris provide a safe but alluring way to stand up close to the local plant life and fauna. See the ferocious carnivores like lions and cheetahs as they prowl for prey and experience the gentle beauty of the herbivores inclusive of giraffes, zebras, elephants, gazelles and others as they graze in the picturesque prairies. Pass a watering hole and seize a glimpse of the massive hippopotamus because it lumbers along, trying to live cool.

Guided excursions are to be had lasting as little as a morning or afternoon or for numerous days. Overnight adventures provide luxurious accommodation at non-public game lodges placed nearby of all of the wild action taking place outdoor its confines. In the darkish, pay attention as a lion's roar breaks the night time silence and at sunrise, revel in a breakfast with the scenic African panorama as your backdrop.

To begin planning your safari experience and study more approximately Kenya safari programs, sincerely publish your online inquiry shape to put the pro understanding of Mount Kenya Climbing Expeditions representative at be just right for you.

A Kenya Safari is definitely an unbelievably haunting and invigorating encounter. It could also be a challenging encounter, based upon which kind of trip you like. Maasai Mara is notably a unique wildlife reserve, and it is one of the best places where Maasai people live side-by-side with the wild animals. Masai Mara Game Reserve, an extension to the Serengeti in the south, has exceptional open savanna grasslands that have rich riverine woodlands characterized the beautiful meanders on the Mara and Talek rivers. The Mara, as is casually known, is accredited for its varied and enormous selection of plains game and in particular predators. Wild animals are bountiful in the reserve and game-viewing is a great one anytime.

For the holiday maker seeking to drive independently, there is a multi-day walking safari within the Laikipia forests, wild rivers, which is renowned for its close-up encounters with wild dogs, elephant, and rhinoceros populace. Kenya safari tour implies an exciting wildlife trip and cultural encounter while you go to the main national parks/reserves and have to interact with together with the distinct communities. Kenyan people are really warm and friendly folks. Everybody that you come into contact with during your travels in the country could make you feel that you are in your home away from home.

Precisely, a private tour in this country is a fun-filled expedition which you can secure with a very favorable and competitive price if you are able to select the best planner. Luxury Kenya vacation trips have a lot to provide. Inland would be the grotesque plains of Africa, the most famed is the Masai Mara, the location of innumerable plains animals, lions, elephants, cheetah, zebra, giraffe, rhino, leopard in addition to a variety of other unusual residents making Kenya among the leading safari vacation spots in Africa.

Within the Masai Mara conservancies, you have the prospect to enjoy a customized luxury Kenyan safari tour to see massive numbers of animals within the unique huge open plains. Here within the conservancies, you can take part in day and night time game drives, Maasai guided walking safaris, local cultural interactions, and finally the amazing hot air balloon safaris. If you have certainly not experienced a Kenya safari holiday you might be missing a fantastic experience of your life. Kenya is undoubtedly the top-rated tourist destinations in Africa, home to the highest concentration of wildlife, for example, the big five; the Lion, Elephant, Leopard, Buffalo and rhinoceros.


Kenya Lodge Safaris - Masai Mara Wildebeest Migration Safaris, Kenya luxury safaris, Maasai Mara Migration Safaris, wildebeest migration tour in Kenya trip holiday

Kenya Lodge Safaris - Maasai Mara Migration Safaris, wildebeest migration tour in Kenya trip holiday

Kenya Lodge Safaris - Maasai Mara Migration Safaris, wildebeest migration tour in Kenya trip holiday

Information and details for African migration safaris, offers for Kenya safaris, Kenya Lodge Safaris, Maasai Mara Migration Safaris, wildebeest migration tour, Kenya trip holiday, Kenya animal migration holiday, Great Migration Safari, Serengeti Migration, Masai Mara, Africa wildebeest migration safaris Migration
Mount Kenya is Africa's second highest mountain at 5,199m (17,058 feet) and the highest of all Kenya Mountains. Mount Kenya is roughly circular, about 60km across at the 200mm contour, where the steep font hills rise out of the gentler slopes of the centered highlands. At the centre of the massif, the main peaks rise sharply from around 4,500m to the main summit of Batian 5,199m, Nelion 5,188m and point Lenana 4,985m. Other major summits on the mountain include Point Piggott 4,957m, Point Dutton 4,885 and Point John 4,883m. Of the three main peaks (Batian, Lenana and Nelion), only point Lenana can be reached by trekkers and the other two being only for technical climbers.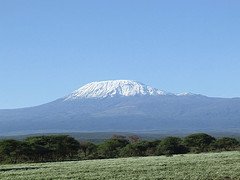 Africa's highest mountain, Mount Kilimanjaro stands on featureless part of the East African plateau, on the Tanzanian side of the Kenya border near Moshi, side by side with the smaller Mount Meru. These mountains are extinct volcanoes, with Kilimanjaro actually being the agglomeration of three distinct volcanoes, Kibo (5896m/ 19,340 ft), Mwenzi (5,149 / 16,896 ft) and Shira (3,962m / 13,000 ft). whose violent creation is geologically associated with the creation of the Great Rift Valley, 100km to the West.
Mount Meru is Mount Kilimanjaro's little sister, standing at 4,566m compared to 5,895m, but is still an impressive freestanding volcano, which makes a superb four day climb to the top. It last erupted in 1910 therefore can be classified as an active volcano. The first Mount Meru ascent was made by Dr. Fritz Jaeger, 1904. The town of Arusha lies at the base of Mount Meru Trekking, loads of trek companies do this trek. Wild animals are frequently found on this mountain therefore an armed ranger usually accompanies the trekkers.
Kenya Lodge Safaris - Maasai Mara Migration Safaris, wildebeest migration tour in Kenya trip holiday Kenya Lodge Safaris Tour, wildlife safaris in Kenya & holiday trips to Kenya wildebeest migration safari.