MOUNT KENYA CLIMBING
Mount Kilimanjaro Climbing | Mount Kenya Climbing | Mt Meru Climbing | Mt Longonot | Oldonyo Lengai Hiking | Loita Hills Walking | Trekking Chyulu Hills

Kenya Lodge Safaris - Lake Nakuru & Maasai Mara Lodge Trip & holiday

KENYA LODGE SAFARIS

–

Lake Nakuru & Maasai Mara Lodge Trip

Day 1: Masai Mara to Lake Nakuru, Kenya
Pick up from your Nairobi hotel and drive to Lake Nakuru National Park to arrive in time for lunch at Sarova Lion Hill Lodge. Set on a plateau in an elevation above Lake Nakuru, Sarova Lion Hill Game Lodge has 67 chalets all overlooking the lake, within the Lake Nakuru National Park . It is the perfect place to experience one of the world's largest ornithological spectacles, The Pink Flamingo, or a rich concentration of wildlife including black and white colobus monkey and is also a famed Rhino Sanctuary. In the afternoon proceed on a game drive in this famous ornithological spectacle for flamingoes. Dinner and overnight at Sarova Lion Hill Lodge or Lake Nakuru Lodge, B,L,D.

Day 2: Lake Nakuru - Maasai Mara

Drive through the Great Rift Valley past the spectacular Volcano Mount Longonot and head towards the rolling plains of the Masai Mara. The last one and a half-hours of the journey find us on bumpy, dusty, dirt road as we drive across the Loita Plains taking in the scenery. Before entering into the Game Reserve there is a visit to a Masai village. Not only can you see inside a traditional Masai hut, and learn about Masai tradition and lifestyle, but you can also try your hand at the age-old tradition of bartering for souvenirs. The village is slightly commercialised but still gives a good idea of how the Masai live. Dinner and overnight at Mara Simba Lodge, B,L,D.

Day 5: Masai Mara
The Masai Mara is the most famous and prolific game park in Kenya covering an area of 1672 square kilometres. It is classified as a Reserve as opposed to a National Park to allow the Masai people to use the area to graze their cattle. A highlight of the Mara is no doubt the annual wildebeest migration, when literally millions of these beasts stray north from the Serengeti in search of grass for food, before turning south again.

The Masai Mara has one of the highest concentrations of lion in Africa and is a good place to try and spot the elusive leopard. In most National Parks it is forbidden to drive at night so all game viewing is done as early and as late as possible to get the best conditions. The best time of the day to spot the hunting cats is just before sunrise and just after sunset so we are up and away early. During the heat of the day we return to the lodge for huge buffet breakfasts and a chance to enjoy your superb hotel facilities, including a chance to relax by the pool.

Game Parks are places where the enthusiastic use a lot of film so it's advisable to have some extra. Hopefully we should be able to spot prides of lions, elephants, buffaloes, zebra and hippo and other more common animals such as wart hog, giraffe, and baboon - almost every conceivable species of East African wildlife can be spotted here.

At our lodge in the reserve there are many optional activities to enjoy. In the evening there is the opportunity to learn more about the Masai and their way of life with a talk about their rich culture and an option to join them in traditional dancing. Early the next morning hot air ballooning is on offer. It is an amazing experience, as you take off with the sunrise and float above the Game Reserve, viewing the wildlife for approximately an hour before landing in the reserve to enjoy a full breakfast with champagne under the shade of a tree on the plains. The wildlife looks on while you partake in this luxurious fare. We offer two opportunities for a balloon safari on this tour, your tour leader will advise you whether the Masai Mara or Serengeti ballooning option is the best choice depending on the location of the migration. Dinner and overnight at Mara Simba Lodge, B,L,D.

-Hot air balloon ride: US$ 425 per person

-Visit to a Maasai village for a cultural tour: US$ 25 per person

Day 4: Masai Mara - Nairobi

Today, drive back to Nairobi after breakfast, end of the tour in the early afternoon

, B.

Tour Cost: US$ 1,155 per person sharing. Single room supplement: US$ 259

Tour Cost Includes:
-Guarantee price/guarantee safari on confirmation
-All ground transport whilst on safari in a comfortable safari vehicle equipped for game viewing, photography and touring
-Full board accommodation whilst on safari

-M

eal plan as described, B=Breakfast, L=Lunch and D=Dinner
-Accommodation in double/twin/triple room
-All park entrance fees to include government taxes
-Service of an English speaking professional driver/guide
-All game drives as detailed in the itinerary
-Bottled water whilst on safari
-Start and end in Nairobi.
-Personalised service

Tour Cost excludes:
-Tips
-Laundry
-Beverages/Drinks
-International flights
-Visas
-Items of a personal nature
-Any other extras not detailed in the above itinerary




Pre & Post Tour Accommodation:

All our tours begin with a pre-departure meeting when you meet your tour leader, driver and/or fellow travellers. If you wish to spend a few additional days in your start city before the departure of your tour, then we can arrange accommodation for you. On the last day of the tour we usually arrive at our final destination in the late afternoon, when the tour ends. If you would like to book accommodation for that night or even stay additional nights, we will be more than happy to arrange this for you as well. All our accommodation is carefully chosen, conveniently located, clean and comfortable. (All rates per person per night and subject to availability).




Kenya Lodge Safaris - Lake Nakuru & Maasai Mara Lodge Trip & holiday




Masai Mara Migration

Lake Nakuru

Kenya Lodge Safaris - Lake Nakuru & Maasai Mara Lodge Trip & holiday

Kenya Lodge Safaris - Lake Nakuru & Maasai Mara Lodge Trip & holiday

© Copyright 2005 - 2017 - 2008 © Mount Kenya Climbing Expeditions. All Rights Reserved.
P.O. Box 51322 - 00200, Nairobi, Kenya.
Tel: +254 20 2244068 / 3317656, Fax: +254 20 3317656, Cell phone: +254 720 414 327
Website: www.mountkenyaclimbing.com

African safari offer, Kenya Wildlife safari, wildlife safaris encounters in Kenya, Kenya Lodge Safaris, Lake Nakuru, Maasai Mara lodge trip, Kenya lodge holiday tour, professional safari operator, Kenya tour operator, affordable safari, budget safari in Kenya, Lake Nakuru safaris, Masai Mara lodge safaris, Masai Mara safari tour.
Mount Kenya is Africa's second highest mountain at 5,199m (17,058 feet) and the highest of all Kenya Mountains. Mount Kenya is roughly circular, about 60km across at the 200mm contour, where the steep font hills rise out of the gentler slopes of the centered highlands. At the centre of the massif, the main peaks rise sharply from around 4,500m to the main summit of Batian 5,199m, Nelion 5,188m and point Lenana 4,985m. Other major summits on the mountain include Point Piggott 4,957m, Point Dutton 4,885 and Point John 4,883m. Of the three main peaks (Batian, Lenana and Nelion), only point Lenana can be reached by trekkers and the other two being only for technical climbers.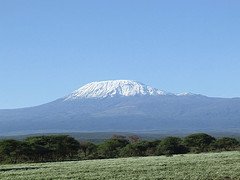 Africa's highest mountain, Mount Kilimanjaro stands on featureless part of the East African plateau, on the Tanzanian side of the Kenya border near Moshi, side by side with the smaller Mount Meru. These mountains are extinct volcanoes, with Kilimanjaro actually being the agglomeration of three distinct volcanoes, Kibo (5896m/ 19,340 ft), Mwenzi (5,149 / 16,896 ft) and Shira (3,962m / 13,000 ft). whose violent creation is geologically associated with the creation of the Great Rift Valley, 100km to the West.
Mount Meru is Mount Kilimanjaro's little sister, standing at 4,566m compared to 5,895m, but is still an impressive freestanding volcano, which makes a superb four day climb to the top. It last erupted in 1910 therefore can be classified as an active volcano. The first Mount Meru ascent was made by Dr. Fritz Jaeger, 1904. The town of Arusha lies at the base of Mount Meru Trekking, loads of trek companies do this trek. Wild animals are frequently found on this mountain therefore an armed ranger usually accompanies the trekkers.
Kenya Lodge Safaris - Lake Nakuru & Maasai Mara Lodge Trip & holiday, Kenya Lodge Safaris Tour, wildlife safaris in Kenya & holiday trips to Kenya wildebeest migration safari.