Mount Kilimanjaro Climbing | Mt Kenya Climbing | Mt Meru Climbing | Mt Longonot | Oldonyo Lengai Hiking | Loita Hills Walking | Trekking Chyulu Hills

5-Day Chogoria Route, Naro Moru, Mount Kenya Climbing

MKC 501: Chogoria Route Down Naro Moru route

Distance: 75 km | Difficulty: Demanding | Start/Finish: Nairobi

5-Day Chogoria Route Naro Moru Summary

Pack camping gear and supplies to strike out on the eastern side of the mountain up this long but spectacular approach through the deep chasm of gorge valley. Mount Kenya Climbing Expeditions recommends the 5-day Chogoria route as it is the most scenic of all the routes. Hiking on this route allows one to enjoy the remarkable Nithi Falls, Lake Ellis, Lake Michaelson and the Gorges Valley. It is possible to add an extra day at Austrian Hut, top hut giving one and opportunity to acclimatize comfortably thus reducing summit distance and time.

Mount Kenya is characterized by a series of peaks which are naturally crowned with snow, and its slopes are covered with forests. Here you can perform an adventurous activity, as the 5199 meter (17,057 ft) high summit is a difficult technical climb. Mount Kenya presents the perfect destination for the experience. It's an extinct volcano with some trees half a million years old. Straddling the Equator, the mountain provides a mosaic of woods, moorland, stone, and ice, and is crowned by the glittering twin peaks of Batain (5,199m) and Nelion (5,188m).

Regarded as the sacred home of Ngai, God of the Kikuyu men and women. Mount Kenya is Kenya's premier mountain, a climbers mecca, as well as the state's namesake. Mount Kenya is a favorite destination for a vacation. The mountain is located 175km north of Nairobi and readily available from Nanyuki, through the Naro Moru gate or Sirimon gate. Travelers from the Meru and Embu towns can use the Chogoria Gate.


While climbing higher up the Mount Kenya slopes, the countryside is scenic, with a green carpet of tea plantations, coffee shrubs, and macadamia trees. The air is tantalizingly fresh with crystal clear rivers running in the slopes, cold water gushing out of the woods, skirting the farms and down into the plains. High above the tea farms, the woods line to create the skyline and act as mega-sponges, providing the fresh water and also eye-catching waterfalls.


The 5-day Chogoria route is reported to be the most scenic path to the peaks together magnificent waterfalls along the way. Descent is via Naro Moru route through Mackinders Valley and the scenic but treacherous Vertical bog.

5 Days Chogoria route program and pricing:

Day 1: Chogoria/Mount Meru Bandas - 4hrs, 16km walk, 950m ascent


Pick up from your hotel in

Nairobi at 7am to Chogoria town for an early lunch.

After lunch, take a 4x4WD vehicle to the forest clearance, 16km from where the walk starts. You will walk for 16km through the montane forest, bamboo, and giant heather zone along the dirt and sometimes very muddy road. Also, hiking through the high altitude moorland to reach Mount Meru Bandas at 2950m in 4hrs. Dinner and overnight at Mt. Meru Bandas, B,L,D

Day 2: Mount Meru Bandas - Road Head Camp, 3hrs, 9km, 350m ascent
After breakfast follow the track through giant heather and forest up to Chogoria road head. From where the path drops to cross a stream then follows the broad ridge to the east of the gorges valley. After walking for approximately 3-hrs, you will reach Road Head Camp. Overnight at Road Head Camp at 3300m.

Day 3: Road Head/Mintos Hut - 4 hrs, 12km
After breakfast follow the track through giant heather and forest up to Chogoria road head from where the path drops to cross a stream. The it follows the broad ridge to the east of the gorges valley to reach Mintos Hut, 4200m. Dinner and overnight at Mintos Hut, B, L, D

Day 4: Mintos/Point Lenana/Met Station - 11-12 hrs, 29km, 785m ascent/1985m descent
Leave shortly after midnight at 2am towards the main peaks. The route divides after an hour, above a flat green area at the head of the valley known as temple fields, arriving at point Lenana at 6:30am. After taking photographs, descend via Naro Moru route to Mackinders for breakfast. Continue walking down to Met Station at 3000m for dinner and overnight rest, B,L,D

Day 5: Met Station/Naro Moru/Nairobi - 3hrs, 9km, 400m descent
After breakfast, descend through the rainforest which is 9km to Naro Moru Park Gate at 2,600m where you will connect with your transport back to Nairobi, arriving at approximately 3pm, B,L



Tour cost: US$ 910 per person




Included in the price:


• Guarantee price/guarantee trek on confirmation
• Transfer to and from the base of the mountain
• Full board accommodation whilst on the trek.

• Meal plan as detailed: B=Breakfast, L=Lunch and D=Dinner
• Accommodations in camps/huts as per the itinerary
• All park entrance fees to include government taxes
• Service of an English speaking professional guide, porters and skilled cook
• On completion, successful climb Certificate
• Treated water on the trek.
• Start and finish Nairobi



Excluded:


• Tips, laundry, sleeping bags and drinks

• Accommodation before/after the trek

• Hiking / climbing gears
• International flights
• Visas to Kenya
• Items of personal nature
• Any other extras not detailed in the above itinerary

| | |
| --- | --- |
| | |
| Mount Kenya Climbing | Mount Kenya Hiking |




Mount Kenya Climbing Expeditions, tour Chogoria route, Naro Moru Route, Chogoria out Naro Moru Route, Mount Kenya Climb, Mt Kenya hiking & Trekking, walking holidays Kenya.
Mount Kenya is Africa's second highest mountain at 5,199m (17,058 feet) and the highest of all Kenya Mountains. Mount Kenya is roughly circular, about 60km across at the 200mm contour, where the steep font hills rise out of the gentler slopes of the centered highlands. At the centre of the massif, the main peaks rise sharply from around 4,500m to the main summit of Batian 5,199m, Nelion 5,188m and point Lenana 4,985m. Other major summits on the mountain include Point Piggott 4,957m, Point Dutton 4,885 and Point John 4,883m. Of the three main peaks (Batian, Lenana and Nelion), only point Lenana can be reached by trekkers and the other two being only for technical climbers.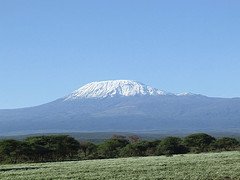 Africa's highest mountain, Mount Kilimanjaro stands on featureless part of the East African plateau, on the Tanzanian side of the Kenya border near Moshi, side by side with the smaller Mount Meru. These mountains are extinct volcanoes, with Kilimanjaro actually being the agglomeration of three distinct volcanoes, Kibo (5896m/ 19,340 ft), Mwenzi (5,149 / 16,896 ft) and Shira (3,962m / 13,000 ft). whose violent creation is geologically associated with the creation of the Great Rift Valley, 100km to the West.
Mount Meru is Mount Kilimanjaro's little sister, standing at 4,566m compared to 5,895m, but is still an impressive freestanding volcano, which makes a superb four day climb to the top. It last erupted in 1910 therefore can be classified as an active volcano. The first Mount Meru ascent was made by Dr. Fritz Jaeger, 1904. The town of Arusha lies at the base of Mount Meru Trekking, loads of trek companies do this trek. Wild animals are frequently found on this mountain therefore an armed ranger usually accompanies the trekkers.