MOUNT KENYA CLIMBING
Mount Kilimanjaro Climbing | Mount Kenya Climbing | Mt Meru Climbing | Mt Longonot | Oldonyo Lengai Hiking | Loita Hills Walking | Trekking Chyulu Hills

Siana Springs Intrepids Camp, Siana Springs Heritage Hotels Kenya, Maasai Mara

SIANA SPRINGS INTREPIDS CAMP - MAASAI MARA GAME RESERVE, KENYA

Siana Springs Intrepids Camp: Maasai Mara

Siana Springs Camp is situated at the base of the Ngama Hills, on the eastern edge of the Maasai Mara Reserve, Siana Springs cAMP occupies a lush indigenous forest watered by the largest natural springs in the Mara ecosystem – 'Siana' or 'the plentiful' springs in Maa. The camp's location in the heart of the Siana Group Ranch offers guests unique opportunities for thrilling walking safaris, night drives and fly-camping along the seasonal streams beneath the Ngama Hills, while our hosts will also treat you to uniquely uncontrived interpretive tours of their manyattas, cattle bomas, cultural and community facilities.

Siana Springs Intrepids Camp Accommodation
- 38 luxury tents spread amid woodlands and ponds
- Large single or double beds and classic furnishings
- Modern en suite bathrooms with hot showers
- Secluded verandahs with all-day bar service

- Large dining room and open-air dining terrace.

Siana Springs Camp Facilities
- Freeform swimming pool and sunbathing terrace
- Private conference room with business facilities
- Boutique with souvenirs and safari essentials
- Reliable phone, e-mail, fax and postal services
- Full single-day laundry and valet services.

Mara Intrepids Camp Activities
- Game drives with highly trained personal guides
- Escorted walking safaris and night game drives
- Riverside banquets in the main Mara reserve
- Arrangements for dawn hot air balloon safaris
- Bush breakfasts and dinners under the stars
- Romantic sundowners on the Ngama Hills

- Unique lifestyle tours with our Maasai hosts
- Heritage's famous Adventurers' Club for the kids.

| | | |
| --- | --- | --- |
| | | |
| | | |

Siana Springs Intrepids Camp,Siana Springs Intrepids Heritage Hotels Kenya Siana Springs Intrepids Tented Lodge,Luxury Maasai Mara Siana Springs Intrepids Camp Maasai Mara

© Copyright 2005 - 2008 © Mount Kenya Climbing Expeditions. All Rights Reserved.
P.O. Box 51322 - 00200, Nairobi, Kenya.
Tel: +254 20 2244068 / 3317656, Fax: +254 20 3317656, Cell phone: +254 720 414 327
Website: www.mountkenyaclimbing.com

Siana Springs Intrepids Camp,Siana Springs Intrepids Heritage Hotels Kenya Siana Springs Intrepids Tented Lodge,Luxury Maasai Mara Siana Springs Intrepids Camp Maasai Mara.
Mount Kenya is Africa's second highest mountain at 5,199m (17,058 feet) and the highest of all Kenya Mountains. Mount Kenya is roughly circular, about 60km across at the 200mm contour, where the steep font hills rise out of the gentler slopes of the centered highlands. At the centre of the massif, the main peaks rise sharply from around 4,500m to the main summit of Batian 5,199m, Nelion 5,188m and point Lenana 4,985m. Other major summits on the mountain include Point Piggott 4,957m, Point Dutton 4,885 and Point John 4,883m. Of the three main peaks (Batian, Lenana and Nelion), only point Lenana can be reached by trekkers and the other two being only for technical climbers.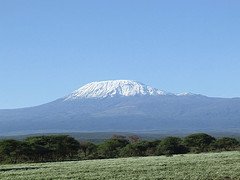 Africa's highest mountain, Mount Kilimanjaro stands on featureless part of the East African plateau, on the Tanzanian side of the Kenya border near Moshi, side by side with the smaller Mount Meru. These mountains are extinct volcanoes, with Kilimanjaro actually being the agglomeration of three distinct volcanoes, Kibo (5896m/ 19,340 ft), Mwenzi (5,149 / 16,896 ft) and Shira (3,962m / 13,000 ft). whose violent creation is geologically associated with the creation of the Great Rift Valley, 100km to the West.
Mount Meru is Mount Kilimanjaro's little sister, standing at 4,566m compared to 5,895m, but is still an impressive freestanding volcano, which makes a superb four day climb to the top. It last erupted in 1910 therefore can be classified as an active volcano. The first Mount Meru ascent was made by Dr. Fritz Jaeger, 1904. The town of Arusha lies at the base of Mount Meru Trekking, loads of trek companies do this trek. Wild animals are frequently found on this mountain therefore an armed ranger usually accompanies the trekkers.