MOUNT KENYA CLIMBING
Mount Kilimanjaro Climbing | Mount Kenya Climbing | Mt Meru Climbing | Mt Longonot | Oldonyo Lengai Hiking | Loita Hills Walking | Trekking Chyulu Hills

EXCURSIONS & SHORT SAFARIS FROM MOMBASA

Whilst staying in the coastal Island of Mombasa, there are various excursions available:

MKCM001:

Mombasa town tour

The colourful island town of Mombasa with its blend of ancient and modern buildings on the Indian Ocean is Kenya's principal port and the country's second largest city. A comprehensive tour of the island include the old Arab town, with it's maze of narrow twisting alleys displaying the beautifully curved doors and verandahs, bazaars with curio and antique shops, the Dhow harbour still in use, a Hindu temple, a visit to the Akamba wood carvers and a drive to the bazaar for a short shopping expedition. The high light of the tour is probably the visit to Fort Jesus. Built in 1593 by the Portuguese to guard the entrance to the old Dhow harbour, it is the island's Landmark. Four hundred years old, the port still stands and serves as a historical museum.

MKCM002:

Coastal Cultural Tour (Bush Tour)

The coastal countryside and its people offer a different perspective to Kenya's tribal heritage. The tour provides a glimpse into the traditions and cultures of the coastal people with a visit to a Giriama or Digo Village with our local guide. Continue to Kaloleni to visit the local market and thereafter drive to Kenya Marine land on the North coast, which offers an opportunity to observe numerous species of tropical marine life in giant aquariums. A snake park, situated nearby is also visited and you can watch carvers at work producing the famous "Makonde" pieces of art.

MKCM003:

Shimba Hills Tour/Mwaluganje elephant Sanctuary (MES)

The Shimba Hills are a short drive from Mombasa. South of the island, they are reached via the Likoni Ferry and are over a thousand feet high which offers one a view of both the Indian Ocean and the African bush. A visit to the MES is highly recommended and is located about 30 minutes from the glistening beaches of south coast. At MES you will experience a unique safari in a spectacular landscape. Elephants here never forget. Like them, you'll always remember Mwaluganje. MES's 60,000 acres feature dramatic cliffs and forested hills as well as bush land with baobabs – all striking for the wildlife. Apart from the elephant, you might see warthog, impala, bushbuck, sable, Cape buffalo and leopard.

MKCM004:

Malindi and Gedi Tours

Depart from your coastal hotel and drive north to Kilifi through attractive country covered by extensive sisal plantations dotted with huge baobab trees. Cross the scenic creek and continue onto the ancient city of Gedi-a 13th century ruin in the heart of a dense forest. Thereafter proceed onto the coastal town of Malindi for lunch and an exploration of the marine park in a glass-bottomed boat where an experienced guide takes you on goggling and snorkelling. Later, visit a nearby village and watch the Giriama tribe perform exciting tribal dances before driving back to Mombasa by sundown.

MKCM004:

Full Day – City Tour and Nature Tour.

A comprehensive morning tour of the island including a visit to Fort Jesus is followed by lunch at Mamba Village. Mamba is the Swahili name for crocodile and this "village" is really a crocodile farm. Depart after lunch for the Bamburi Quarry Nature Trail. The wasteland of the stone quarry has been reclaimed and amongst the casuarinas trees and other tropical flora reside a variety of wildlife and birds, Eland and Buffalo, Crocodiles and other reptiles can be seen wandering with crowned cranes. The commercially viable aquaculture complex is also visited.

MKCM005:

Tamarind Dhow Safari

At 12.00pm or 6.30 pm departure from the Tamarind jetty for the lunch cruise or evening cruise respectively. After a welcome cocktail the Tamarind Dhow Nawalicker (meaning Gateway to Heaven) cruises past the Old Town and Fort Jesus. Fantastic sea food meals prepared by the world famous Tamarind Restaurant are enjoyed while a local band plays music to suite all tastes. A tri-lingual guide, fully stocked bar and friendly service all add to the unforgettable atmosphere. 2.45 pm or 10.30 pm return to the jetty and thereafter your hotel.




| | | |
| --- | --- | --- |
| | | |
| Mount Meru Climbing | | Mount Meru Hiking |

© Copyright 2005 - 2008 © Mount Kenya Climbing Expeditions. All Rights Reserved.
P.O. Box 51322 - 00200, Nairobi, Kenya.
Tel: +254 20 2244068 / 317656, Fax: +254 20 317656, Cell phone: +254 720 414 327
Website: www.mountkenyaclimbing.com

Excursions from Mombasa short safaris and beach holiday in Mombasa Kenya, Mombasa Excursions, Mombasa Beach Holidays, short safaris in Mombasa
Mount Kenya is Africa's second highest mountain at 5,199m (17,058 feet) and the highest of all Kenya Mountains. Mount Kenya is roughly circular, about 60km across at the 200mm contour, where the steep font hills rise out of the gentler slopes of the centered highlands. At the centre of the massif, the main peaks rise sharply from around 4,500m to the main summit of Batian 5,199m, Nelion 5,188m and point Lenana 4,985m. Other major summits on the mountain include Point Piggott 4,957m, Point Dutton 4,885 and Point John 4,883m. Of the three main peaks (Batian, Lenana and Nelion), only point Lenana can be reached by trekkers and the other two being only for technical climbers.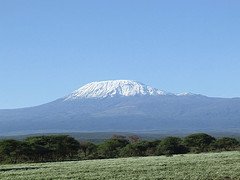 Africa's highest mountain, Mount Kilimanjaro stands on featureless part of the East African plateau, on the Tanzanian side of the Kenya border near Moshi, side by side with the smaller Mount Meru. These mountains are extinct volcanoes, with Kilimanjaro actually being the agglomeration of three distinct volcanoes, Kibo (5896m/ 19,340 ft), Mwenzi (5,149 / 16,896 ft) and Shira (3,962m / 13,000 ft). whose violent creation is geologically associated with the creation of the Great Rift Valley, 100km to the West.
Mount Meru is Mount Kilimanjaro's little sister, standing at 4,566m compared to 5,895m, but is still an impressive freestanding volcano, which makes a superb four day climb to the top. It last erupted in 1910 therefore can be classified as an active volcano. The first Mount Meru ascent was made by Dr. Fritz Jaeger, 1904. The town of Arusha lies at the base of Mount Meru Trekking, loads of trek companies do this trek. Wild animals are frequently found on this mountain therefore an armed ranger usually accompanies the trekkers.