MOUNT KENYA CLIMBING
Mount Kilimanjaro Climbing | Mount Kenya Climbing | Mt Meru Climbing | Mt Longonot | Oldonyo Lengai Hiking | Loita Hills Walking | Trekking Chyulu Hills

Mara Serena Safari Lodge, Mara Serena Lodge, Maasai Mara Serena Lodge, Serena Hotels

MARA SERENA SAFARI LODGE - MAASAI MARA, KENYA

MARA SERENA LODGE, MASAI MARA

The Mara Serena Safari Lodge has a front-row seat for one of the grandest shows in Africa. Every year, thousands of wildebeests, zebras and gazelles cover the plains beneath the lodge's grounds during their annual migration to the thick new grasses of the Serengeti. The Mara Serena Lodge looks like no other.

Mara Serena Lodge's 73 guest rooms are a vibrant incarnation of colors and shapes reflecting the time-honored art of the Mara's peoples, the Maasai. Secreted deep within the Masai Mara National Reserve, the Mara Serena Safari Lodge is the ultimate safari destination. Set high on a bush-cloaked hill, embraced by arcing vistas and washed by a sea of richly rolling grasslands, it stands centre-stage to one of Africa's most dramatic wildlife arenas and has a ringside seat for the greatest wildlife show on Earth, the legendary migration of the wildebeest.

Drawing Mara Serena Lodge's inspiration from the traditional Maasai cultural motif of a cluster of domed, mud-coloured huts encircled by a 'Boma' of brushwood, the Mara Serena offers a rare blend of raw African splendour and sumptuous sophistication. The essentially ethnic décor also draws on a vibrant colour-palette of sun-burst colours, embellished by a unique selection of Maasai art to create the look and feel of a traditional bush encampment. The lodge features individual rooms, each with their own balcony and view of eternity, a sky-blue swimming pool and a spectacular restaurant, overlooking a water hole where a fantasia of creatures collect to drink.


Location: Maasai Mara Game Reserve, Kenya, 310 km from Nairobi

Access Mara Serena Lodge: Road (5-6 hrs) and Air (45 minutes) from Nairobi
Year Built: 1962
Rooms Available: 73
Age Restriction: None

Ownership: Serena Hotels

Services & Amenities:
Restaurant, Bar, Swimming Pool, Beauty Therapy and Massage Services, Curio Shop, Laundry Services, Valet, Baby-Sitting, Meeting and Conference Facilities, Telephone and Fax Facilities, Mosquito Nets, En-Suite Bathrooms, Private Verandas.

Mara Serena Safari Lodge, Mara Serena Lodge, Maasai Mara Serena Lodge, Serena Hotels


© Copyright 2005 - 2008 © Mount Kenya Climbing Expeditions. All Rights Reserved.
P.O. Box 51322 - 00200, Nairobi, Kenya.
Tel: +254 20 2244068 / 317656, Fax: +254 20 317656, Cell phone: +254 720 414 327
Website: www.mountkenyaclimbing.com

Mara Serena Safari Lodge, Mara Serena Lodge Maasai Mara Serena Lodge, Serena Hotels, Mara Serena Lodge in Masai Mara, Serena Maasai Mara Migration Safari, Maasai Mara lodge safaris.
Mount Kenya is Africa's second highest mountain at 5,199m (17,058 feet) and the highest of all Kenya Mountains. Mount Kenya is roughly circular, about 60km across at the 200mm contour, where the steep font hills rise out of the gentler slopes of the centered highlands. At the centre of the massif, the main peaks rise sharply from around 4,500m to the main summit of Batian 5,199m, Nelion 5,188m and point Lenana 4,985m. Other major summits on the mountain include Point Piggott 4,957m, Point Dutton 4,885 and Point John 4,883m. Of the three main peaks (Batian, Lenana and Nelion), only point Lenana can be reached by trekkers and the other two being only for technical climbers.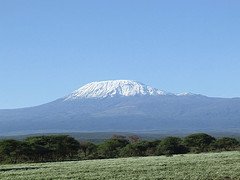 Africa's highest mountain, Mount Kilimanjaro stands on featureless part of the East African plateau, on the Tanzanian side of the Kenya border near Moshi, side by side with the smaller Mount Meru. These mountains are extinct volcanoes, with Kilimanjaro actually being the agglomeration of three distinct volcanoes, Kibo (5896m/ 19,340 ft), Mwenzi (5,149 / 16,896 ft) and Shira (3,962m / 13,000 ft). whose violent creation is geologically associated with the creation of the Great Rift Valley, 100km to the West.
Mount Meru is Mount Kilimanjaro's little sister, standing at 4,566m compared to 5,895m, but is still an impressive freestanding volcano, which makes a superb four day climb to the top. It last erupted in 1910 therefore can be classified as an active volcano. The first Mount Meru ascent was made by Dr. Fritz Jaeger, 1904. The town of Arusha lies at the base of Mount Meru Trekking, loads of trek companies do this trek. Wild animals are frequently found on this mountain therefore an armed ranger usually accompanies the trekkers.