MOUNT KENYA CLIMBING
Mount Kilimanjaro Climbing | Mount Kenya Climbing | Mt Meru Climbing | Mt Longonot | Oldonyo Lengai Hiking | Loita Hills Walking | Trekking Chyulu Hills

3 Days Maasai Mara budget camping tour

KENYA CAMPING SAFARIS – Masai Mara Safaris

MKCC 302: 03 Days Masai Mara Safari

Day 01: Drive to Masai Mara where you will arrive for an afternoon game drive. Dinner and overnight at a campsite.

Day 02: Full day in the Masai Mara and on game viewing. Animals to be seen include; lion, elephant, buffalo, leopard, cheetah, rhino, wildebeest, impala, waterbuck and various species plains game and birds. Overnight at the camp.

Day 03: Early morning game drive. Drive back to Nairobi.

| | | |
| --- | --- | --- |
| | | |
| Kenya Camping Safaris | | Mount Meru Hiking |

3 Days Maasai Mara camping safari, Masai Mara budget camping tour, Budget camping safari Kenya, Maasai Mara Camping Safari

© Copyright 2005 - 2017 - 2008 © Mount Kenya Climbing Expeditions. All Rights Reserved.
P.O. Box 51322 - 00200, Nairobi, Kenya.
Tel: +254 20 2244068 / 3317656, Fax: +254 20 3317656, Cell phone: +254 720 414 327
Website: www.mountkenyaclimbing.com

3 Days Maasai Mara camping safari, Masai Mara budget camping tour, Budget camping safari Kenya, Maasai Mara Camping Safari.
Mount Kenya is Africa's second highest mountain at 5,199m (17,058 feet) and the highest of all Kenya Mountains. Mount Kenya is roughly circular, about 60km across at the 200mm contour, where the steep font hills rise out of the gentler slopes of the centered highlands. At the centre of the massif, the main peaks rise sharply from around 4,500m to the main summit of Batian 5,199m, Nelion 5,188m and point Lenana 4,985m. Other major summits on the mountain include Point Piggott 4,957m, Point Dutton 4,885 and Point John 4,883m. Of the three main peaks (Batian, Lenana and Nelion), only point Lenana can be reached by trekkers and the other two being only for technical climbers.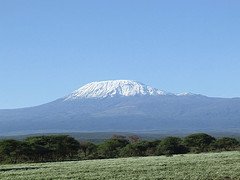 Africa's highest mountain, Mount Kilimanjaro stands on featureless part of the East African plateau, on the Tanzanian side of the Kenya border near Moshi, side by side with the smaller Mount Meru. These mountains are extinct volcanoes, with Kilimanjaro actually being the agglomeration of three distinct volcanoes, Kibo (5896m/ 19,340 ft), Mwenzi (5,149 / 16,896 ft) and Shira (3,962m / 13,000 ft). whose violent creation is geologically associated with the creation of the Great Rift Valley, 100km to the West.
Mount Meru is Mount Kilimanjaro's little sister, standing at 4,566m compared to 5,895m, but is still an impressive freestanding volcano, which makes a superb four day climb to the top. It last erupted in 1910 therefore can be classified as an active volcano. The first Mount Meru ascent was made by Dr. Fritz Jaeger, 1904. The town of Arusha lies at the base of Mount Meru Trekking, loads of trek companies do this trek. Wild animals are frequently found on this mountain therefore an armed ranger usually accompanies the trekkers.